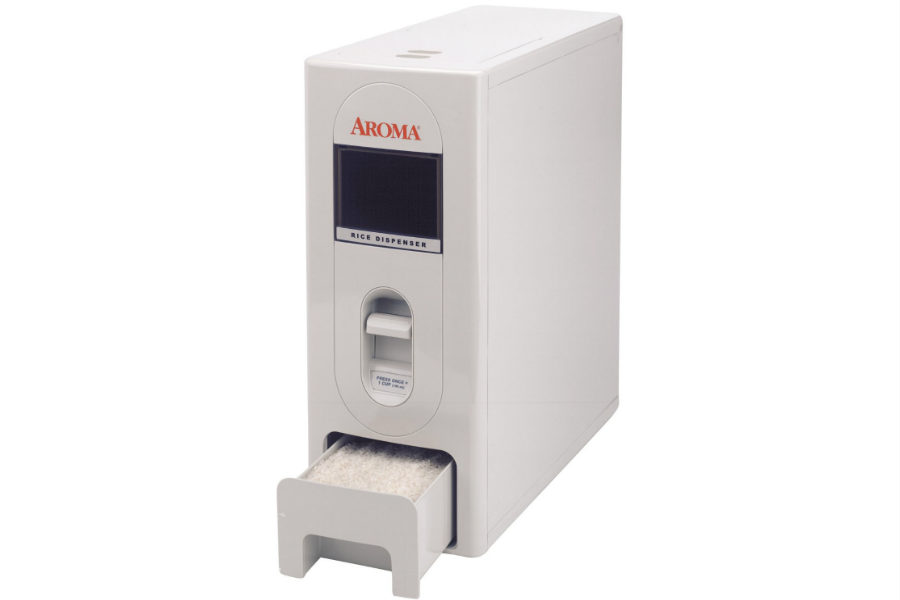 Are you thinking of getting a rice dispenser to hold all your rice in one place? If so you will find a few over here that I think is the best rice dispenser to get. Having a rice dispenser is so much better.
It's convenient, organizes your food items and the most important of all is to keep bugs away from infesting it.
Do you agree we all don't like having to eat those yucky stuff made by the bugs, especially if you are living in a place that has a lot of cockroaches? A rice dispenser can hold a lot of pounds of rice. We usually buy a bag of 25 pounds of Jasmine rice. I think it will last us about a month for the four of us.
Buying 4 to 5 pounds of rice each time in the grocery store is not that convenient and it might cost you more  money. Sometimes you will forget to buy them and have to go back for another trip. I like the idea of buying a bigger bag and only needing to buy it once a month. That's the only time we go to the Asian market, once a month to get rice, soy sauce, dumplings and other Asian food items. We usually shop at Walmart for groceries.
I have found the 4 best ones for you to check out. Two of them can load up to 22 pounds, one can use up to 26 pounds. Finally, the last one can load up to 55 pounds. Select the one that fixes your needs the best.
A tip for you to keep in mind when loading your big bag of rice in the dispenser: Make sure you have decided where to put your dispenser first and then load your rice in or else it will be much heavier to carry it to a different location. It might also cause you to spill rice all over the place when moving it.
Aroma Housewares ARD-125 Rice Dispenser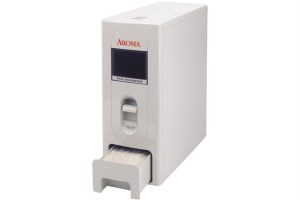 This one is made by the famous company of Aroma. If you trust this company brand then maybe you should go with this one. It can hold up to 22 pounds of rice. This is designed not only for rice but also can be used for beans.
It really doesn't take up that much space. It can fit nicely on your kitchen counter or the cabinet. You can also put it in the pantry if you prefer. The dimensions for this item are about 7.1 x 17.3 x 16.5 inches.
The best part is there is no need for installation. It is super easy to use. The dispensing system has a pre measured easy one cup push button for the rice.
It will definitely keep your rice fresh longer. If rice is not fresh when you cook them, it doesn't taste as good like the fresh ones. I can definitely tell the taste.
When you are buying rice try to buy the fresh one that has been produced recently. Some of them will tell you what year they are made. For example, the one made in the year of 2015 will not taste as good as the one made in the year 2016 when you cook them. Of course the store will try to lower the price a bit to get you to buy it.
I usually don't buy those. I would rather pay a bit more to get the fresh one, like the one newly produced. The longer you store the rice, the cooked rice will not taste as good. Actually, it will have a weird taste and smell to me. I can definitely tell the difference.
Sunpentown SC-10 Holds 22 Pounds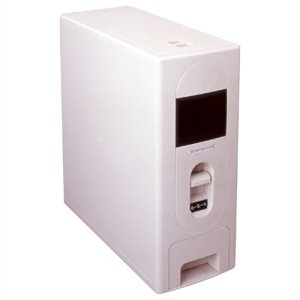 This one is from Sunpentown. I have this one. I have had this one for a very long time. I don't remember how many years I have had it but I think at least 10 years. This one can hold up to 22 pounds of rice.
If you decided to go with this one, be sure to buy a bag that is under 22 pounds of rice. 20 pounds might be a good choice. The reason for that is you don't want to over fill all the way. You should leave some room for the refill bag.
We normally still have rice left in the dispenser. If you have a dispenser that can hold a 20 pound bag of rice, and without finishing all of it you buy another 20 pounds of rice then you wouldn't have enough room to put it all in because of the left over rice still in there.
This one also has a simple press button for one cup of rice each time. If you need 4 cups then you need to press 4 times to get four cups of rice out of it. It has a one year limited warranty.
Sunpentown SC-12 26 Pounds Rice Container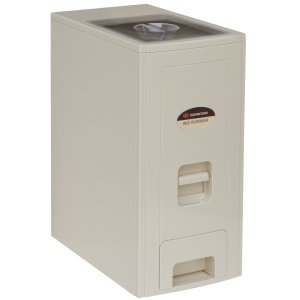 I wish I had bought this one first since we usually buy a 25 pound bag of rice each time. This size was NOT available when I was buying a rice container.
Maybe I will just give away my 22 pounds to my sister and buy this one instead. Then I don't have to leave the left over rice in the bag and load it a second time to the dispenser.  This will look really nice in my pantry.
It does take more room and the price might be a little higher when comparing to my current one. Well, that is obvious since the size is bigger. It is 4 pounds in difference. This item weighs about 13 pounds. Not too heavy for me to carry it to the pantry or on the counter.
The average rating for this rice container is very good as well. Now all I need to do is ask my sister to see if she wants a rice container before buying it. LOL…… If you are curious how much this item costs, you can click on the image on the left or the check price button. Oh yeah, forgot to mention, it does come with a one year limited warranty from the manufacturer.
Tayama Or 55 Pounds 25kg Rice Dispenser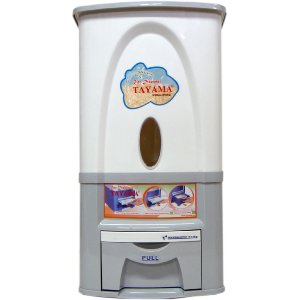 If you need a large dispenser and have more family members then this is the one you should go for. It can hold up to 55 pounds of rice. You can easily load 2 bags of 25 pounds or a bag of 50 pounds of rice in there and have some room to spare.
You will definitely save a lot of money on rice by buying them in a larger bag. Like I said before, stick with buying the most recent produced rice and your rice will taste much better.
This one is a little different than the other three for withdrawing the cup of rice. It is not a press of a button. It is a pull to get the rice out. You are able to withdraw 1/2 and 1 cup of rice from the manual shelf by pulling the shelf. The container in the bottom can hold up to 5 cups of rice.
The measurement for this rice storage is about  13" L x 22" H x 14" W. According to the Tayama website this item is BPA Free.